Apopular destination,Provence offers an idyllic setting and a perfect climate for an upscale wedding season from spring to fall. 
A wedding in Provence means being able to celebrate your love in the open air with a cocktail at sunset and a dinner under the stars.
Our wedding planner agency in Provence offers a multitude of pre or post wedding activities: boat trips in the Calanques, wine tasting, Provencal markets and a cultural richness like no other.
The reception venues and hotels in Provence have a charm that often stands on its own. Whether in a luxury hotel or in a barn with elegant wooden beams, you are sure to get married in an exceptional upscale venue.
Provence is the region of abundance, contrasts, gastronomy and wines, things to see and do: enough to satisfy the most demanding bride and groom. 
Tell us about your dream wedding and our wedding planner agency will make it happen.
Our wedding planning agency in Provence only offers a complete planning package for your high-end wedding, which allows us to guarantee the success of your event by managing it with you from the very beginning.
A first exchange allows us to present our philosophy, our approach and you will share with us all your desires and expectations in order to determine together the best way to accompany you in the realization of your wedding dreams in Provence.
After having determined together a budget and signed a contract, our wedding planneragency in Provence starts to work without further delay on the organization of your wedding.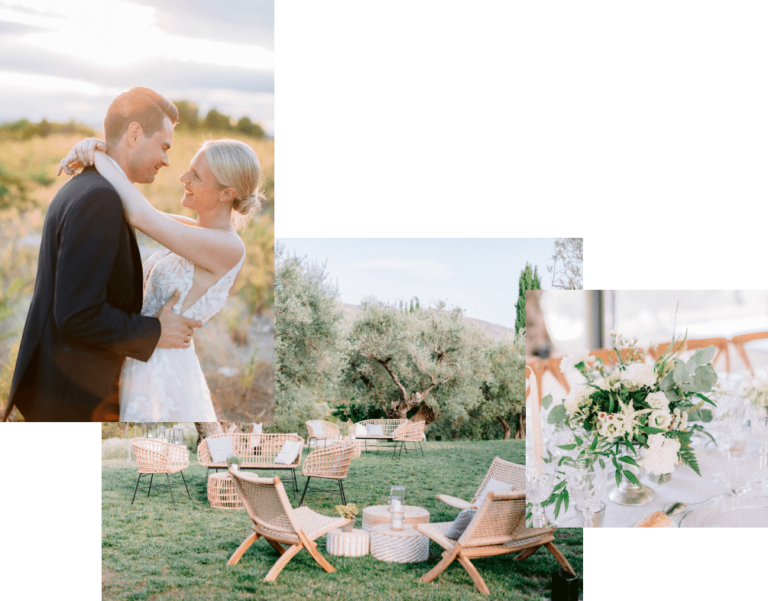 Our team is fluent in French, English, Spanish and Portuguese.
We will find the perfect wedding venue for your wedding in Provence.
A bastide, a farmhouse, a castle, a wine estate, our wedding planner agency has an address book that will delight you.
Partner selection and management
We offer you a selection of privileged service providers: local or international service providers, the objective is to meet your desires for a high-end wedding.
We ensure that your wedding budget is respected.
We will keep track of the budget item by item to give you a clear and precise view at all times.
Let's create together the perfect atmosphere for your wedding in Provence. The colors, the flowers, the decoration... We work on inspiration boards giving you a very precise idea of the final result.
We can take care of the travel logistics, the accommodation booking and the organization of your guests' activities. We can help you with all the logistics of your wedding in Provence.
Creation & follow-up of the day's schedule
We are the guarantors of the respect of the organization of your day. We also manage all the logistics of installation, the recovery of equipment and supplies.
Our team will be at your disposal on the day of the wedding to ensure your happiness throughout the day.
Our teams speak French, English, Spanish and Portuguese.
Do you want to have a wedding in Provence?
Share with you your project and your desires!

We will provide you with an answer within 48 hours.
Provence wedding planner, wedding planner in Provence, wedding in Provence, Provence wedding, wedding planner Provence, wedding in Provence, wedding in the Alpilles, wedding in Provence, wedding in the Luberon, wedding in Provence.